Local issues that affect you
SUPPORTING OUR LOCAL ECONOMY
In 2008, Canada was thrust into a global recession and our local economy here in Brant was hit hard. Our Government responded with Canada's Economic Action Plan which cut taxes, supported infrastructure projects and stimulated the economy. As Brant's representative in Ottawa, I worked hard to make sure that our economic concerns were heard at the national level, and that our riding received a level of support that reflected our needs and priorities.
The result has been unprecedented funding for important local projects to create jobs immediately, while laying the foundation a more prosperous economic future in Brant. Investments in education and post-secondary growth, business innovation, community infrastructure and much more are helping improve our community and creating economic opportunities.
I have supported further measures to encourage local job creation like extending the work-sharing program, offering hiring credits to small businesses, and reducing costly and inefficient red tape - which was a major concern expressed at my February 4th Brant Economic Consultation Roundtable discussion.
SAVING YOU MONEY
I believe strongly in lowering your taxes, and leaving more money where it belongs – in the pockets of Brant's hard-working families and job-creating businesses.
That is why I am proud to have served my first term in a Government that has cut taxes over 120 times, reducing the overall tax burden on Canadians to its lowest level in 50 years.
Conservatives have cut taxes in every way the government collects them. We've cut personal taxes, consumption taxes, business taxes, excise taxes and much more. This has resulted in a total annual savings for a typical Canadian family of over $3,000.
PROMOTING OUR SAFETY AND SECURITY
As a member of the Public Safety and National Security Committee, I have been actively involved with important Conservative initiatives that will help make our streets and communities safer. I advocate for legislation that is focused on putting the needs and rights of the victims and law-abiding Canadians first, and ensures that dangerous, violent and repeat offenders pay their debt to society through sentencing that reflects the severity of their crimes.
Thanks to our action, Canada now has tougher laws that crack down on gun and gang crime, violent and repeat offences, identity theft, sex offences, street racing, impaired driving and car theft. We also put an end to the outrageous practice of giving convicted criminals two-for-one credit for time served prior to trial and OAS payments to prisoners. Just recently, we passed reforms that would end the practice of allowing convicted fraudsters to apply for early parole after serving a mere one-sixth of their sentence.
We have helped provide victims with a greater voice in the justice system and greater access to victim's services. We are establishing and enhancing Child Advocacy Centres across Canada, and recently launched the 2010 Victims Matter campaign.
INVESTING IN OUR FUTURE THROUGH EDUCATION
Education is close and dear to my heart, and I am excited for the future of Brantford's flourishing post-secondary institutions. As a former Governor of Laurier University, and current Vice Chair of the Conservative Post Secondary Education Caucus, I have worked hard to support post-secondary growth that is driving our economy and providing new opportunities for our youth right here in Brant.
I worked hard to secure investments to build the new Laurier Academic Centre, install state-of-the art classroom equipment, and develop plans for a for a downtown YMCA/Laurier athletic centre.
In fact, Conservatives have invested more than $10 billion annually in students and education, including $7 bilion in direct support to students and their families.
SUPPORTING FAMILIES
Our Government's track record reflects our commitment to keeping families strong.
We created the Universal Child Care Benefit which supports parents while providing choice in child-care, and have provided personal income tax relief for parents with children under 18 through the Child Tax Benefit. We have helped families save through the Tax Free Savings Account. We also introduced the Registered Disability Savings Plan to help families of children with disabilities.
In addition, we have provided tax credits for home buyers, public transit users, and parents with children in sports. We have proposed further tax credits for family caregivers, children's art programs, energy efficient home renovations, and medical expenses claimed on behalf of a financially dependent relative.
SUPPORTING SENIORS
I have been hugely supportive of measures taken by our Government to support seniors who helped build and make our country great. Seniors in Brant deserve to keep more of their own money and that is why our Government has taken steps to offer them relief.
Conservatives have provided over $2.3 billion in annual tax relief to seniors and pensioners since 2006. We have removed 85, 000 seniors from the tax roles, introduced income splitting, increased the Age Credit amount and doubled the Pension Income Credit.
We've proposed to further enhance the GIS to provide additional benefits up to $600 for single seniors and $840 for couples – a move that would help more than 680,000 seniors.
We also intend to continue our support for seniors who want to remain in the work-force by proposing an extension to the Targeted Initiative for Older Workers and eliminating the mandatory retirement age for federally-regulated employees.
Claim Settlement for Canada and Mississaugas of the New Credit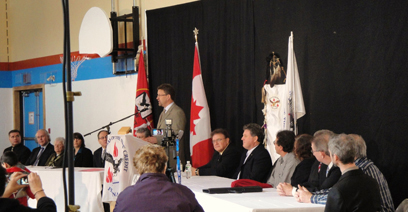 Mississaugas of the New Credit First Nation — A major breakthrough in claim talks was announced in January 2011 by the Honourable Chuck Strahl, Minister of Indian Affairs and Northern Development and Federal Interlocutor for Métis and Non-Status Indians, and Chief Bryan LaForme of the Mississaugas of the New Credit (MNC) First Nation.
Canada has made an offer to settle the Brant Tract and the Toronto Purchase specific claims. The First Nation has agreed to take this settlement offer to its members for a vote. The proposed settlement includes $145 million in financial compensation to resolve both claims.
"The progress achieved at this table shows that claim talks can deliver tangible results when partners work together to find common solutions," said Minister Strahl, who joined community members and students at a celebratory event held today at the Lloyd S. King Elementary School. "Together, we have taken a decisive step forward to settle an outstanding dispute tied to the history of Canada's largest city."
"The Mississaugas of the New Credit First Nation has a history of providing our members with the opportunity to participate in important community decisions," said Chief LaForme. "The culmination of these negotiations will allow us to ensure our membership has input into the Trust Agreement and settlement of the claim. A series of meetings will be held to provide our membership with a thorough understanding of what this proposed offer by the Government of Canada entails. A ratification vote will follow later this spring."
This settlement offer involves two claims - one claim deals with a 1797 land purchase and the other claim relates to the Toronto Purchase of 1805. The basis of the two claims is that Canada did not provide the First Nation with adequate compensation for the land at the time of purchase. The current ownership of land is not in question on either claim. These claims are for financial compensation only.
Specific claims settlements right past wrongs and honour Canada's lawful obligations to First Nations. They also provide First Nations with the capital to invest in new opportunities for economic development and new business partnerships. These investments can bring economic benefits to the First Nation and surrounding communities.
The next step in the resolution process is for the negotiators to draft the legal text of a Settlement Agreement. The First Nation must also prepare a Trust Agreement in consultation with its members. When this work is complete, the First Nation will launch an information campaign to explain the proposed settlement to its members. No settlement is possible without the vote and approval of the First Nation's membership. If a favourable vote is reached, the Settlement Agreement must also be approved by Canada before it can be finalized.
The Mississaugas of the New Credit First Nation has approximately 1,842 members and is located adjacent to Hagersville near Hamilton, Ontario.